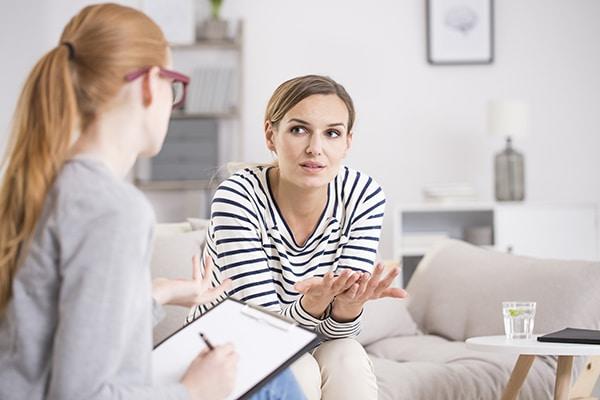 Individual Sessions
When To Seek A Therapist
Things have become a bit too much. Perhaps in the past you were able to handle it all but now that is not the case. It may be that a loved one or friend has urged you to find a therapist to offer you extra support and help you learn how to deal with your emotions. 
You may feel angry, depressed, anxious or a combination of things. What you do know is that you want peace and a better way of being in the world. So, now what?
Am I The Right Therapist For You
When I receive calls from potential clients, I generally begin by asking in some form, "What made you pick up the phone? Why today?" I find most people are initially nervous about reaching out for mental health support and rightly so. It is a very vulnerable action and can feel intimidating. I try my best to listen and engage you respectfully. Generally, an introductory call with me lasts around fifteen minutes. This allows time for me to understand your needs and see if we are the right fit for one another.  You may ask yourself, "what do you mean by the right fit?"  Sometimes potential clients call me and have very specialized needs that may not fit with my expertise or level of training. While it does not happen often, it is something I am trained to respond to. A great example of a "right fit" is if someone is calling me about an eating disorder such as anorexia or bulimia. If this is the sole focus for a client, I would refer them on to a therapist who has extensive training and specializes in these specific eating disorders. 
I ask for a brief background about what is going on and allow space for you to add any additional information you feel will help. Typically, I will share my style of therapy and provide you with information about what therapy sessions look like with me. If you choose to move forward with me, we will discuss scheduling, intake forms, telehealth, and payment.
My Clients
I work with diverse women from many cultures and background ranging in their 20's – 50's. My clients are dealing with big life challenges. This can include family, work, friends, health issues and even starting new chapters. Often my clients are dealing with anxiety, depression, anger and/or unresolved trauma. I also offer support with infertility, postpartum and parenting. My clients often need help getting "unstuck" from a negative thought pattern or routine that is not benefitting them.
Introductory Questions to Ask Me
What is your education background: I have a Master's Degree in Psychology and a Master's Degree in Business.
Do you have additional training: I am certified in Trauma Therapy, Grief and Loss, Maternal Mental Health Disorders, Reiki 1 and II, Somatic Experiencing
What type of therapist are you? I am a Humanistic/Existential therapist and work on present issues. Also, I do incorporate cognitive behavioral therapy, Bowen therapy, and other modalities depending on your individual needs. I follow the framework of family systems therapy.
What is your policy on confidentiality: I follow the California State Law and Code of Ethics. We will review confidentiality in our first session, and you will receive a written copy with your intake forms.
How long does therapy take: Therapy is an ongoing process. Remember, the issues that brought you to therapy typically did not happen in one day and it takes time to deconstruct the problem and learn tools to help you.
Will I have homework: The answer is yes! Sometimes homework includes getting more rest, becoming more self-aware in situations, or even completing a worksheet. In addition, I will offer you suggested materials to read or research on your own. It is important to me that my clients feel that our work is collaborative and if something does not work for you, I will redirect it accordingly.
Will I receive a diagnosis: At this time, I do not take insurance payments. If you have insurance and can go out of network, I will supply a Super Bill for session payment reimbursement. You will need to check with your insurance provider to see if you have out-of-network benefits. I will have to write down an official diagnosis. This is something that you and I will discuss.
The First Therapy Session
In the first session, I will be asking background questions and reviewing your intake forms with you.  The first two to three sessions are about you and I getting to know one another. This is a time for you to feel comfortable and understand the rhythm of the session.  During this time, we won't be trying to "fix" the problem but rather explore what has worked in your life before and what is not working now.  Sometimes opening old wounds or talking about things that have been stuffed down can be triggering and hard. I always ask my clients to sit in a safe place where they can have privacy. It is important that you can spend the 50 minutes focusing on your needs. It helps to have a notebook and pen to take notes or write down homework. In addition, have a glass of water by your side. The water can help your body with regulation and give you a moment to think.
Telehealth and Online Sessions
Due to Covid, most therapists moved to telehealth as a way to maintain a working relationship with clients. What we found is that by offering telehealth, it allows clients more flexibility with their schedules. It also has the added benefit whereby clients feel more comfortable in their own environment. In the future, I may have an office again however at this time, I only offer telehealth and phone sessions.
Duration of Session
Each session is 50 minutes unless otherwise stated. Typically, around minute 45 we will recap the session, discuss homework and schedule for the following week. After the third session we will discuss a more permanent time slot that will be dedicated to you.
Complimentary free 15-minute phone session for you!!
The free consultation is a chance for you to discuss some of your key goals and concerns.
Stacey will describe her approach and how she would develop a customized program for you.
Let me help you overcome challanges
Office & Telehealth Locations:
Pasadena CA 91105
Monrovia CA 91016
Response Time:
I will try my best to respond to you within 24 hours during working business hours. 
*48 Hour Cancellation Policy:  Regular rates will apply to any cancellations under 48 hours notice
*Due to Covid Restrictions, I am providing Telehealth at this time.  The platform I use is Hippa Compliant. 
​*At this time, I do not take payments from medical insurance companies however I do offer Super Bills which can be turned back into health insurance providers for reimbursement.  
Office & Telehealth Locations:
Pasadena CA 91105
Monrovia CA 91016
Monday:  10:00 – 8:00 pm
Tuesday:  10:00 – 6:00 pm
Wednesday:  10:00 – 3:00 pm
Thursday:  10:00 – 3:00 pm
Friday:  10:00- 1:00 pm
Saturday closed
Sunday closed
© 2023 by Stacey Inal, CA LMFT #120626 Los Angeles, California.